Consortium led by ELTE developed the new Erasmus+ App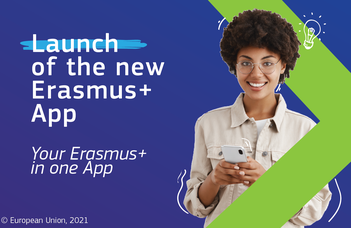 The goal of the new mobile app is to support students (from application for the program to their return back home) in their participation in Europe's most famous mobility program.
After three years, the first version of the Erasmus+ App needed a revision, so in 2019, the Education, Audiovisual, and Culture Executive Agency (EACEA) launched a tendering procedure. The consortium led by ELTE won, other members of the team are the European University Foundation (EUF, the developer of the original), Erasmus Students Network (ESN), and contractors from the field of Information Technology (Aristotle University of Thessaloniki, Eworx).
The app, that is planned to have a PC version as well, plays a key role in the European Student Card Initiative, that creates
an online, single entry point access to administration,
this way they can handle all the administrative steps connected to their mobility before, during and after their stay.
At this single entry point, students can easily find all information needed for a successful mobility experience, they can complete administrative tasks and through the mobile app, and they will even have access to university services, opportunities and services at and close to the campus of their host institute.
ELTE's tasks include leading the consortium, project management, tasks related to developing and providing helpdesk services. The EUF is in charge of the complete development and communication with the key people and the interested parties. The marketing of the App was assigned to ESN and the contractors agreed to develop the interfaces for higher education institutions and the development of the App's interface for students and all the services that come with it. The duration of the project is 30 months.
On 28 January 2021, the new Erasmus+ App was introduced by European Commission together with the members of the consortium (ELTE, EUF, ESN), students and other representatives of higher education, in the frameworks of a successful online event.