Honorary doctorate lectures on ancient Rome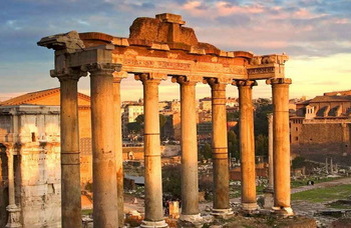 14. October 2021. 15:00
ELTE BTK Kari Tanácsterem (1088 Budapest, Múzeum krt. 4/A ground floor. 39.)
14. October 2021.15:00 -
ELTE BTK Kari Tanácsterem (1088 Budapest, Múzeum krt. 4/A ground floor. 39.)
---
Francisco Pina Polo will hold a lecture on the conception and praxis of democracy in Republican Rome, and Johannes Hahn will speak on the religious revolution of the fourth century AD in church and society. The lectures will be held in English.
The ELTE Senate inaugurated its new Honorary Doctors, including two renowned scholars of ancient history, Johannes Hahn and Francisco Pina Polo, on 7 May 2021, at the Pázmány Day General Assembly. Due to the pandemic situation, the ceremony was held online, so the traditional in-person lectures of the honorary doctors could not take place. The lectures on 14 October 2021 will make up for this.
Francisco Pina Polo, Professor at the University of Zaragoza, is an internationally renowned scholar of the history of late Republican Rome, its political institutions and orators. In his lecture "Conception and Praxis of Democracy in Republican Rome", he will contribute to the historiographical debate on the democratic or aristocratic nature of the Republic. According to the speaker, the republic had democratic elements, but that did not necessarily make it a democracy. The Romans themselves did not think of res publica as democracy, nor did they have a precise word to describe the concept. The Late Greek writers did refer to the Roman Republic as a democracy, but this was to distinguish it from a monarchy.
Johannes Hahn is Professor of Ancient History at the University of Münster, where his research interests include the Roman Empire, the cultural, religious and social history of late antiquity, and early Hellenism. In his lectures titled "Martyrs Conquer the Empire. The Religious Revolution of the Fourth Century AD in Church and Society", he takes us back to the reign of the Roman Emperor Constantine. This time period is usually associated with the triumph of Christianity and the beginning of the transformation of state and society into a Christian empire. However, the lecturer argues that religious doctrine did not play a major role in the process and that the Church itself had little control over these developments. The rapid spread of veneration of the martyrs had an impact on collective identity, and the cult of relics made tangible the material concept of sanctity and a new form of religiosity.