ELTE Summer School in Mathematics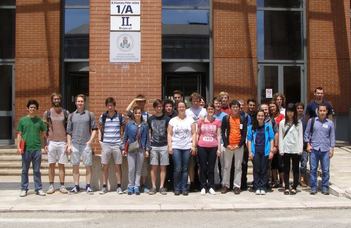 6–10 June 2017
One-week summer school for undergraduate and graduate students in Mathematics, Computer Science or Sciences, organized by the Institute of Mathematics, ELTE, Budapest. If you are planning your future and want to check our graduate school that offers an English language MSc program, then this is a good opportunity to do so with a one-week long intensive experience.

Topic:
"Higher mathematics through problem solving"
Although mathematics is much more than just going through a series of drill problems - posing new questions, building new theories, applying the existing tools to other areas of science are just as important -, problem solving remains one of the most important parts of mathematics education. And it's fun, too!
A new definition, a theorem or even whole theories are best understood when we are guided to discover these results through our own efforts. Carefully chosen problems will lead us to understand these results without feeling the difficulties of reading a "dry theorem", and we will also better appreciate the conditions which give the proper setting of a mathematical statement. By getting trained in problem solving, we will also get a training for doing research.
During the summer school there will be problem solving sessions in algebra, number theory, combinatorics, geometry, analysis and probability theory, each of them concentrating on one or two special topics. Participants will get a brief introduction into the necessary notions and results and then individual work will follow, with the guidance of the lecturers and their assistants.
Mathematics education at ELTE
Mathematics education has a long tradition in Hungary. Eötvös Loránd University (ELTE) has leading mathematicians among its former students and former and current professors. Frigyes Riesz, Lipót Fejér, John von Neumann, Pál Turán, Endre Szemerédi (Abel Prize winner in 2012), László Lovász, and Pál Erdős are all ELTE alumni.

Important dates
Early bird application: 30 April 2017
Latest deadline for applications: 31 May 2017
First day of classes: 6 June 2017
Last day of classes: 10 June 2017

More information
Website of the summer school
Facebook page