Vezér út Dormitory
Vezér út Dormitory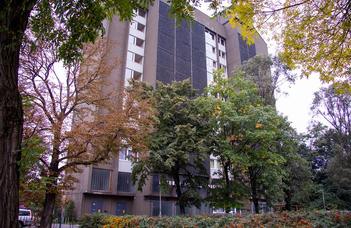 HU
Name: Vezér úti Kollégium (VUK)
Address: 1141, Budapest Vezér street 112-114
Total capacity of the dormitory: 365 people
Dormitory fee:
Rooms with 2 or 3 beds: 40 000 Ft/month
For students with Stipendium Hungaricum Scholarship: the dormitory place is free according to the actual Stipendium Hungaricum Program Operational Regulations.
Room types per level:
2 rooms with 2 beds
2 rooms with 4 beds
11 rooms with 3 beds
Bathroom: shared bathroom on corridor
Study room: available
Services:
Internet, WiFi
Ping-Pong table
Table football
TVs in the lunchrooms
Common areas:
Common kitchen and lunchroom on each floor
Learning room on the first floor
Great room on the ground floor
Computer room
Library
Health room
Gym
Musical and linguistic educational room
How to get there: trolleybuses 77 and 82, night bus 907
(Timetables for public transport)
Average time to the ELTE faculties: 30-60 minutes.
Other notes: smoking is not allowed inside, only outside of the building.
Vezér út Dormitory
Vezér út Dormitory