Campus visits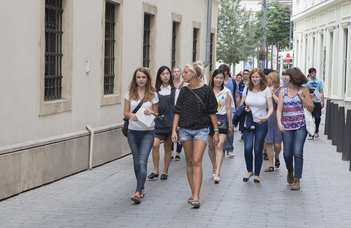 If you can't make it for the Open Day, you can sign up for our campus tours or schedule and independent visit with us.
The International Office organizes thematic Campus Tours for groups (of at least 8 participants) on request.
No. 1 "Walk of Truth & Knowledge"
Rector's Cabinet, Faculty of Law and Political Sciences, University Library
Want to see a convent that now houses offices, a church attached to a university building, the university's first flag from the 17th century, or the place where the greatest Hungarian jurists have taught? How about a visit to the oldest library of Hungary, which even today has an extremely unique collection among the collections in Europe, with more than 1,5 million items?
No. 2 "Walk of Wisdom & Arts"
Faculty of Humanities
Want to see the oldest faculty of the university, the leading faculty of the country and the largest faculty of ELTE and Hungary? So many secret stories might be hidden. How about a visit to the main building of the campus, which was designed by Imre Steindl, architect of the Hungarian Parliament? There is even a secret garden at the back of the campus!
No. 3 "Walk of Science & Technology"
Lágymányos Campus: Faculty of Informatics, Faculty of Science, Faculty of Social Sciences
Want to see the most modern campus in Hungary that has countless unique collections in the areas of Mathematics, Natural Sciences and Information Technologies? Let them be a museum of the evolution of mankind, the richest mineral and rock collection in Hungary, a Planetarium or a Research Centre – all found on campus. We will have a visit to a few.
All tours take ab. 2–2.5 hours.
Please contact the International Office (iro@elte.hu) in advance to arrange a campus tour at ELTE.