3D Printing is already a Part of our Daily Life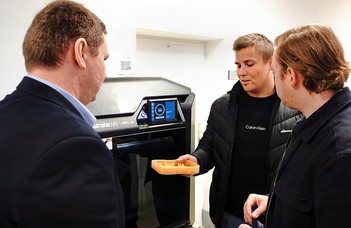 HU
Varinex Plc., which introduced 3D technology to Hungary, hosted a tech brunch with lectures and presentations at ELTE Savaria University Centre. The event also revealed how the university exploits the potential of 3D printing.
3D printing started its journey in Hungary twenty-five years ago. Initially, it was called rapid prototyping and was used to fabricate models – from sheets of paper back then – for the production of refrigerator internal parts and gearbox housings. This technology is today already a part of our daily life: relatively cheap printers are available to nearly anyone, and with the most modern machines, industrial players can significantly reduce the time spent on product development.
The event was opened by Nóra Lenkai, Rector's Commissioner for ELTE Savaria University Centre. Speaking about the importance of the relationship between the university and industry actors, she stressed that the campus strives for meeting the challenges of digitisation and Industry 4.0 by teaching various technologies and establishing modern labs. József Nemes, associate professor at the Savaria Institute of Technology, emphasised how the computer is transforming the IT world,
3D technology will be changing long-established production models.
At the Szombathely campus of ELTE, there are five 3D printers at the disposal of students partaking in technical and IT courses. The use of these printers can be learnt during a short, barely half-hour training session. In addition to the students of technical and IT courses, those attending economics and teacher training could get an insight into the latest achievements of 3D technology at the tech brunch.
Tamás Márton Birosz, doctoral student and teaching assistant at Savaria Technical Institute, ELTE Faculty of Informatics, pointed out that 3D printing promotes education and research in many areas. With its help, students can, for example, find out whether the technical drawing of the plan they dreamed up is accurate, and whether the printed parts can be assembled. They can even produce full-fledged, functional parts while writing up their thesis. The technology also proves to be extremely useful during projects. It has already been used for making a self-driving car and a simple CNC laser engraving machine. "3D printing offers the easiest and quickest way to create a finished product from a concept or virtual model," said the teacher of the Faculty of Informatics.
Source: ELTE Savaria University Centre