8th International Summer School on Bioethics and Medical Law in Thessaloniki, Greece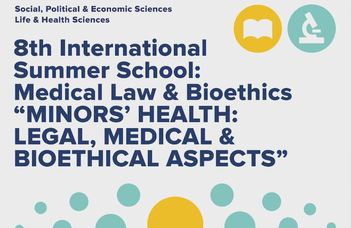 The Laboratory for the Research of Medical Law and Bioethicsof the Aristotle University of Thessaloniki in collaboration with the National Commission for Bioethics & Technoethics, is pleased to announce the organization of the 8th International Summer School of Medical Law and Bioethics.
Participation fees/Discount
The tuition fees amount to EUR 100,00 for students of all levels and EUR 150,00 for jurists and health professionals for entries up to April 30th, 2023 and to EUR 130,00 and EUR 180,00 respectively for entries up to May 31st, 2023.
Application
Candidates can submit the application online from 1/1/23 to 31/5/23 on the website below.
Each application has to be accompanied by the following document or copies:
Proof of payment of tuition fees, which is attached to the application, in the account 5202-057157-381 Piraeus Bank
International Bank Account Number (IBAN): GR94 0172 2020 0052 0205 7157 381
Code Bic (SWIFT address) PIRBGRAΑ
It should be noted that the proof of payment should contain the following information:
The code 75350
The name of the depositor, status, VAT number, address and telephone number for subsequent issue of invoice.
For further information, please visit the link: https://www.diaviou.auth.gr/programs/medical-law-and-bioethics-minors-health-legal-medical-and-bioethical-aspects/
Contact: medlawlab.auth@gmail.com