American acknowledgement of Prof. Gábor Klaniczay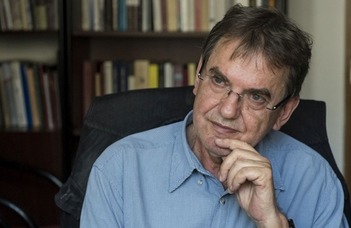 Gábor Klaniczay, professor of ELTE Department of Medieval History was approved as a correspondent member of the Medieval Academy of America in 2020, his induction took place at a conference organised by the Indiana University Bloomington in April 2021.
Medieval Academy of America, founded in 1925 in the U.S., is one of the largest societies of Medieval researchers. It includes members from the U.S. as well as from other countries around the world.
67 Medieval researchers are correspondent members, Gábor Klaniczay is the only Hungarian member.
The MMA always has an annual conference where the new members are inductioned. Gábor Klaniczay's achievements were praised by Sharon Farmer at the conference organised by the Indiana University (Bloomington) this year. She emphasized Gábor Klaniczay's significant research history in the field of religion and culture in the Medieval Central-Europe, and she also shed light on his pioneer English-language monograph: Holy rulers and blessed princesses. Dynastic cults in medieval Central Europe.
Beside his researches, Gábor Klaniczay has always drawn attention to his students and PhD students; he has already been the supervisor of more than twenty PhD dissertations. Apart from ELTE, he also works at Collegium Budapest and the Central-European University; as an editor, he takes part in the publication of several periodicals and volumes.
Sharon Farmer's laudation is available
HERE
.