Ancient baths and treasures found in Komárom by archaeological team led by the Dean of the Faculty of Humanities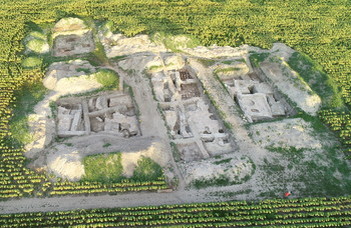 HU
This year's archaeological excavation of the Roman legionary camp Brigetio in Komárom has led to amazing discoveries. The discovered bath and treasures of special value will be presented to the public by Dr. Dávid Bartus, the archaeologist in charge of the excavation and Dean of the Faculty of Humanities of Eötvös Loránd University, during the Open Day organized on 25 August.
Ancient Brigetio (Komárom/Szőny) is one of the most important archaeological sites in Hungary, one of the two Roman legionary camps in the country. The Department of Classical and Roman Provincial Archaeology at the Faculty of Humanities of ELTE and the Klapka György Museum in Komárom have been excavating the tentative world heritage site since 1992.
The excavation season of 2021 ended with an amazing discovery, as the baths of the legionary camp, with a surface area of several thousand square meters were found and partially excavated, which is comparable to the Thermae Maiores of Aquincum, the only other such bath in Hungary found in the 18th century. In addition to the extremely well-preserved walls, red limestone floors, underfloor heating systems and pools, the baths also contain a late Roman bone comb workshop, a gold necklace, and dozens of bronze coins.
Source: ELTE BTK