Applications for the 'Global Challenges for Sustainability' master's is open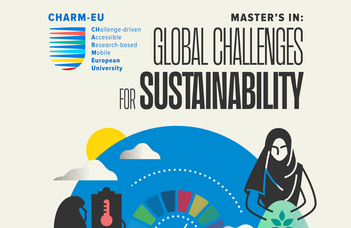 Due to an outstanding interest in our brand-new master's course in 'Global Challenges for Sustainability' we have decided to create a second round of applications for the programme starting from the 7th of May 2021.
If you're interested in obtaining expert knowledge in the topic of sustainability, then the 'Global Challenges for Sustainability' master's is for you! This programme offers a transdisciplinary, challenge-based, and flexible educational model combined with a student experience that offers one-of-a-kind mobility opportunities and a truly inclusive environment.
The CHARM-EU master's includes a full intercultural experience: students will be attending lectures in one of the 5 CHARM-EU partner's universities and connect to the other campuses online over the 18-month duration of the Master's. The course will combine a variety of mobility options: switching campuses from one phase to the other, short mobilities within the phase and virtual mobility.
This course provides a unique opportunity to obtain an accredited master's degree jointly awarded by the five CHARM-EU partners' universities: University of Barcelona, Trinity College Dublin, Utrecht University, Eötvös Loránd University and University of Montpellier.*
*The Master's programme is accredited in Spain, Ireland and France with the accreditation process nearing completion in The Netherlands and Hungary.
After the success of the first call for applications, CHARM-EU has decided to open up a number of places for students who might still be interested in the course.
Who can apply?
The Master's in Global Challenges for Sustainability is aimed at graduates of any discipline from diverse backgrounds who want to acquire advanced knowledge of sustainability by addressing real and global societal challenges. Students will learn challenge analysis skills and extend their capabilities to address and develop solutions for complex problems.
Applicants will need to hold at least a bachelor's degree or recognised equivalent to a bachelor's degree. An English language certification (C1) is necessary for programme admission.
The deadline for applications is 26 May, 2021!
To find out more about what the 'Global Challenges for Sustainability' Master's has to offer click here.