Applications Open to the Next European Student Assembly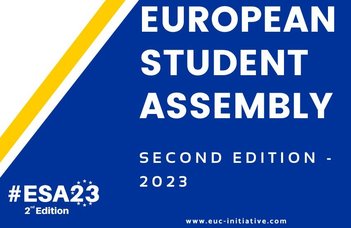 As Eötvös Loránd University is a partner of the CHARM-EU Alliance, ELTE students have the possibility to take part in the second edition of the European Student Assembly (ESA) and discuss current topics connected to the future of Europe at the European Parliament.
The European Universities Community, a grassroots initiative gathering student and staff from European University Alliances, will hold the second edition of the European Student Assembly from 31 May to 2 June 2023 at the European Parliament in Strasbourg, France. As ELTE is a member of the CHARM European University Alliance, students can now apply to take part in the upcoming Assembly with more than 200 peers from different European University Alliances.
The aim of the ESA is to provide an opportunity to debate current issues crucial for the future of Europe, draft political recommendations and advocate them among stakeholders and decision makers. During the preparation phase from March to May 2023, the selected students will work remotely with other members of the same panel to deepen their understanding of their chosen topic. They will meet experts and follow online training on policy drafting and moderation, decide the priorities they wish to deal with and propose concrete solutions to the challenges.
Following the preparation, the students coming from dozens of countries will meet in person in Strasbourg to take part in the European Student Assembly. During 3 days, they will discuss and finalise their recommendations with members of their panel, present them in a plenary session and get feedback from the Assembly as well as from invited stakeholders. In order to promote the results, the Assembly will be followed by a series of dissemination events gathering stakeholders and decision makers such as elected representatives, companies and NGOs.
Students interested in taking part can learn more about the event and the debating topics from the ESA23 Handbook and can apply here.
Applications are open until 4 December 2022, 23:59 (UTC+1).