Apply now for the innovative Master's in Global Challenges for Sustainability!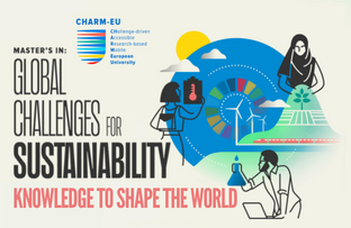 CHARM-EU opened the first application period for the third edition of its special transdisciplinary master's programme focusing on sustainability challenges. Students with a Bachelor's degree from all disciplines are welcome to submit their application until the 28
th
of February. The Alliance is organising an info session on 21 February at 5pm CEST.
The CHARM-EU alliance has opened the application process for the third edition of its innovative Master's Global Challenges for Sustainability starting in September 2023. This joint degree programme is open to students coming from various backgrounds interested in learning and solving real societal challenges in connection with sustainability and acquiring skills that help them to shape the future.
The programme has several unique aspects, including a flexible course structure, a truly international environment with integrated mobility options, a broad content focus and a transdisciplinary approach as well as a strong emphasis on inclusiveness and challenge-based learning. It consists of three compulsory phases: the "preparatory phase" focusing on acquiring general skills especially in the field of sustainability, social innovation and transdisciplinary research; the "flexible phase" where students choose to follow modules on water, food or life and health; and the final "capstone phase" where students work collaboratively on a sustainability challenge with their peers and societal partners.
The master's in Global Challenges for Sustainability is designed to enable students to work in areas such as social innovation, sustainable entrepreneurship, project management or research as it aligns learning outcomes with the needs of industry, business and civil society and promotes a broad set of skills suitable for the labour market. External partners and stakeholders also contribute to the programme enabling students to connect with the business and social sectors, to build a strong network and to be prepared to work with companies and institutions around the world.
Taking part in the programme is also a unique opportunity to obtain an accredited master's degree jointly awarded by five CHARM-EU universities: the University of Barcelona, Eötvös Loránd University Budapest, Trinity College Dublin, Utrecht University, and the University of Montpellier.
You can learn more about the programme and apply on the website of CHARM-EU. The deadline of application is the 28th of February 2023.
If you are interested and have further questions, you can also join the information session organised on Teams on the 21st of February 2023 at 5pm CEST.