BEAC AEROBIK 2020 - Autumn Season starts with  a free trial week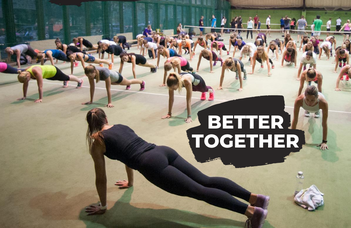 BEAC AEROBIK 2020 - Autumn Season starts with a free trial week starting 7th of Septemer!
Start your semester with sports at BEAC! This academic year also begins with BEAC Sports Week supported by ELTE, VIWA Vitaminwater and Erasmus Students Network - ELTE. The open week organized on 7-11 September is a good opportunity to get to know the sport-selection of the university sports club. Come and train with our young trainers, sport scholars, fellow freshmen, friends, and colleagues!
Find out which sport is the most suitable for you! Those who are interested can try out more than 40 sport branches at Bogdánfy Street ELTE Sports Camp and at further locations. The trainings are led by sports organizers, sports scholars of ELTE, and by the trainers of the BEAC departments. During the open week you can try out all the trainings for free and you can even get to know more than one different branches. The event is for ELTE students and colleagues in the first place, but anyone who is interested is free to come.
https://www.facebook.com/events/2727727957464196
Join us, buy your 4 month-pass, and be fit, healthy and sporty during the Autumn Semester!
Passes, prices:
For ELTE Student the Autumn Pass is:
BUDA or PEST 10.000 HUF, for outsiders: 12.000 HUF
BUDAPEST 15.000 HUF, for outsiders: 18.000 HUF
The Pass valid till 18 December 2020.
Buy the pass 1000 HUF cheaper till 11th of September.
Our trainers are English-speakers, so be brave to ask them, or write us here: beacaerobik@gmail.com
Join us at Facebook: BEAC ELTE AEROBICS FOR YOU
TIMETABLE AND MORE INFORMATION: