Bridging the Gap 3.0 - Szombathely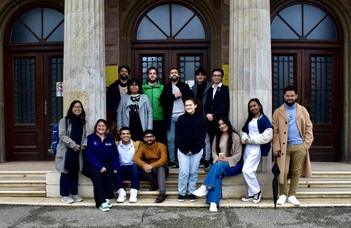 The International Student Ambassadors held their Bridging the Gap 3.0 conference at the Szombathely Campus on April 15-16. During the visit, the students of the campus showed the visitors around the university building and showed them the modern equipment available for them to pursue their studies.
The Bridging the Gap initiative, whose basic idea is to create an alternative student organization capable of representing international students of the university, has now held its third conference. The International Student Ambassadors, the members of the EHÖK and staff from the International Strategy Office, attended the event. During the workshops and brainstorming sessions they came one step closer to achieving their goal.
Another goal of the visit was to bring the students from Budapest closer to the university's institution in Szombathely. During the visit the students had the chance to have a guided tour through the buildings, and various laboratories of the university, where they could have a taste of the everyday life of the Szombathely students. Moreover, the local students showed them around in the city as well, so they could familiarize themselves with the famous sights of Szombathely.