Bridging the Gap
Working towards a more inclusive ELTE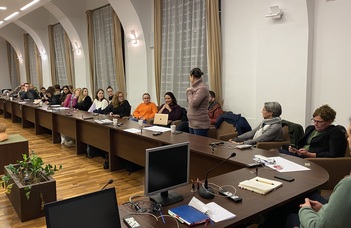 On 24 November 2022, the University held a meeting under the auspices of the International Strategy Office with the participation of International Student Ambassadors, representatives of the EHÖK Committee of Foreign Affairs as well as the Faculties' International Offices.
During the first section, the attendees had the chance to get to know each other. After that, the Faculties gathered positive aspects and various challenges they encounter day-to-day in their university life in relation to the integration of international students.
For the second part of the meeting, some of the participants prepared presentations, introducing their personal experience, both positive and negative. Following the presentations, many valuable questions were raised within a Q&A session. The resulting dialogues will hopefully move the parties forward towards creating a more inclusive University for everyone and also help our international students to complete their studies with positive experiences. In order to work on this, we plan to hold further similar meetings in the future and continue the dialogue.