Building international relations at ELTE Kőrösi Csoma Sándor Dormitory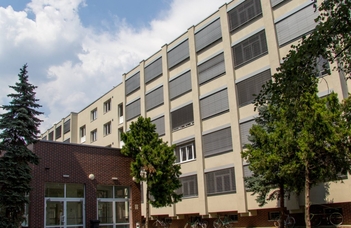 The Finnish Kuopas University's quarter-master company visited ELTE Kőrösi Csoma Sándor Dormitory (ELTE KCSSK) on 28 September 2017.
The 14 member delegation - led by director Tuula Vartiainen - was invited by the Director of ELTE KCSSK to visit the dormitory in the fall semester. During their visit, the delegation explored the institution, including the dormitory's public places and rooms, which was a great opportunity to get a little insight into its everyday life and get familiar with the available spare time and sport activities. After the welcoming speech of dr. János Babos, dr. János András Nánay gave an overall presentation about the system of ELTE Housing, its work and experience which was followed by International Coordinator, Tibor Ágotai's words about ELTE dormitories' set-up and operation.
The event was a great success and the parties agreed to meet on a regular basis in order to continue the mutually beneficial cooperation. Therefore, ELTE representatives were invited to Finland to study the Finnish system.