Call for DOSZ Ambassadors 2022/2023
For international PhD Students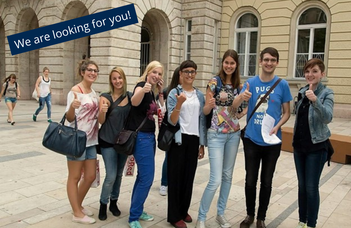 Since 1994 DOSZ (Short for Doktoranduszok Országos Szövetsége, the Hungarian name of Association of Hungarian PhD and DLA Candidates) is the national association to represent all PhD candidates, without any citizenship distinction, who are currently delivering PhD studies in Hungary.
The aim of the Ambassador System is to set up an international environment for young scientists in Hungary, and to internationalise PhD education within the country by crossing boundaries, we would like to facilitate international scientific connections, involving foreign PhD candidates currently doing their research in one of the Hungarian higher education institutions. We believe that only an internationally active PhD community can be competitive and sustainable.
The deadline for the application is 31 March 2022.
Fill out the online application form and attach your professional CV, and motivation letter. Find the application form and further details on the website of DOSZ.
We are looking for you if you:
are a foreign PhD candidate or young researcher in Hungary
would be able to represent young researchers of your country of origin in Hungary
would like to be the representative of your country in DOSZ Ambassador System
have initiatives how Hungarian scientific life could be more inclusive and internationally open
would like to contribute to building scientific bridges between Hungary and your country of origin
would like to be part of a developing community
have good communication and organisational skills
are open minded
are a PhD candidate of a Hungarian university
are physically in Hungary.
Please note that having experience in student advocacy and community building is an advantage.