Career training for international students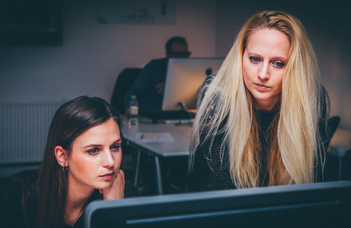 23/02 - 27/03
23. February 2017. 18:00 - 27. March 2017. 20:00
Faculty of Humanities
1088 Budapest, Múzeum krt. 4.
Building A on basement – Room nr.-123
02/23 - 03/27
23. February 2017.18:00 - 27. March 2017. 20:00
Faculty of Humanities
1088 Budapest, Múzeum krt. 4.
Building A on basement – Room nr.-123
---
Would you like to work during your studies? Are you interested in the job opportunities available for foreign students in Hungary? Or do you already have a job, but want a better one? Do you have an idea to start an enterprise? Are you interested in what kind of skills and competences you have or you need some reinforcement?
Please come to the ELTE Career Office for a career training (five group sessions), where you can get the response to these questions from the career counselor professionals of Jövőkerék Foundation, who have been working with foreign job-seekers for years.
Venue: 1088 Budapest, Múzeum krt. 4./A building, on basement – Room nr.-123
Dates: 5 Thursdays as follows: 23 February, 2, 9, 16, and 23 March 2017, 18:00-20:00.
This project is for Non-EU citizen students in higher education, in order to support the integration of the students who study here at colleges or universities and help them find a job.
What we offer:
How to write CV, cover letter in an efficient way

The channels of job-seeking: adverts, networking, and direct marketing techniques

Building your portfolio: how to use LinkedIn, wix.com, blogs, etc.

Preparing for the job interview

The advantages of internships: where to find calls, how to apply

Hungary-specific information about the labor market: TAJ card, tax card, Hungarian labor market, most wanted jobs, etc.

How to treat the stereotypes and prejudices of the employer
Methods: group activity, exercises, presentations, workshop
Participation is free but you need to register in advance!
What should you do?
Register online:
For the first occasion please take the following docs with you for the personal registration:
residence permit

student card or student enrollment form
After the training, we provide free personal career consultation for the participants if needed.
Apply now! Join us!
The number of participants is limited!
Deadline for application: 21. 02.2017
For further information and the online registration form, please contact Jövőkerék Foundation:
Official website: www.jovokerek.hu/student or www.jovokerek.hu/skillsandjobs
Email: munka@jovokerek.hu