CELSA leaders visit Brussels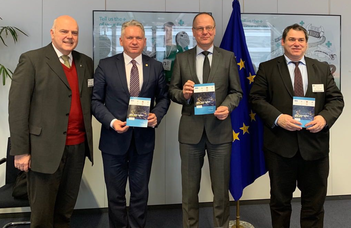 On behalf of the Central Europe Leuven Strategic Alliance (CELSA), László Borhy, the Rector of ELTE and current CELSA President, together with Imre Hamar, Vice-Rector for International Affairs, and Danny Pieters, CELSA Secretary General, visited Tibor Navracsics, European Commissioner for Education, Culture, Youth, and Sport, in Brussels, on 23 January.
During the visit, Tibor Navracsics was informed about the CELSA, which was established at the initiative of the Catholic University of Leuven (Katholieke Universiteit Leuven) in May 2016. In addition to the KU Leuven and ELTE, members of the alliance are the Charles University of Prague, the Czech Technical University, the University of Tartu, the University of Ljubljana, the Semmelweis University, and the Budapest University of Technology and Economics. One of the main objectives of the collaboration is to support joint research projects. Over the last two years, the CELSA Research Fund has supported four research projects that involved participants from ELTE, and the selection of new research projects starting this year is still in progress.
Tibor Navracsics warmly welcomed the activities of CELSA, and said that he considered such collaborations among several universities to be of paramount importance.
In addition to supporting collaborative research, the alliance pays attention to the professional training of administrative support staff. Furthermore, the CELSA Service to Society Awards has been launched this year, with the aim of rewarding outstanding teachers and researchers who are particularly active in the field of social responsibility.
To the end of May 2019, the president of CELSA is László Borhy.