CHARM-EU is hosting an orientation week for its 'Global Challenges for Sustainability' master's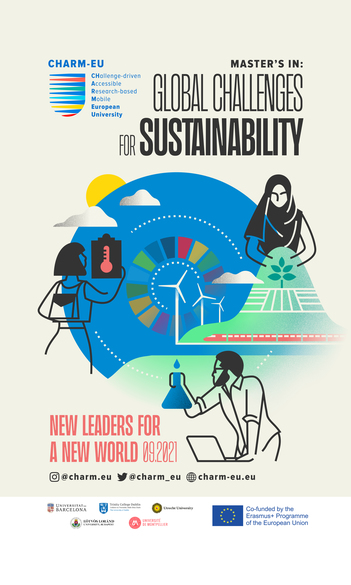 The virtual opening ceremony is open to the public and will take place on September 2nd at 11:00 CET via the
CHARM-EU YouTube Channel
.
Between the 1st and 3rd of September 2021, CHARM-EU is going to be hosting a series of events as part of their orientation week for the 'Global Challenges for Sustainability' master's programme. During these events students, teachers, and external stakeholders will be engaged in numerous ways.
To commence the series of events, students will be welcomed to their chosen starting university, and to CHARM-EU and its community. Students will also be introduced to the cities they have arrived to throughout a variety of fun and exciting activities, such as a local city challenge tour and the exploration of some bars and restaurants.
On the second day of the orientation week CHARM-EU will be hosting its official Opening Ceremony open to the public. This prestigious event will provide an opportunity for the Rectors of the five partner universities of the Alliance to address all university citizens and welcome the new students of the course. Representatives of institutions outside the higher education sector will also address the audience sharing their welcoming words into this new educational model created by CHARM-EU. A live stream from the opening ceremony will be available on the CHARM-EU YouTube Channel on September 2nd at 11:00 CET.
Teachers and students will have their first official introduction discussing the teaching and learning approach of the Alliance in two sessions. Furthermore, a separate session will be organized in order to provide information about inclusivity at CHARM-EU.
The orientation week will mark the commencement of the 'Global Challenges for Sustainability' master's providing a fun and informative way for all university citizens to meet, discover their new surroundings, and find out everything there is to know about their upcoming 18-months course.
Check out the video below for more information about our master's programme: