CHARM European University at the 2021 Erasmus Days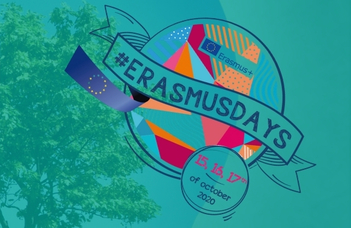 The Erasmus Days, a three-day celebration of the Erasmus+ programme is going to be held in Europe and across the world between the 14-16 of October 2021.
As part of this event series, CHARM-EU is organizing two separate events to allow interested participants to find out more about the Alliance.
CHARM-EU Open House
On the 14th of October between 11-12 CHARM-EU will be hosting their very first open house. This event will provide an opportunity for future students and external stakeholders to find out more about CHARM-EU and their innovative university model.
How to join the CHARM-EU open house?
If you want to find out what CHARM-EU has to offer to its students and external stakeholders make sure to join the open house event through this link on the 14th of October starting at 11:00 CET. When you access the session, a CHARM-EU representative will be available to discuss about the initiative including background, main activities, and ways of getting involved, as well as to answer questions and exchange knowledge.
CHARM-EU Virtual Challenge
As part of the Erasmus Days event series, CHARM-EU is organizing its second Kahoot virtual challenge, which will test participants' knowledge of the Alliance and sustainability. The virtual challenge will take place on Friday, the 15th of October from 12:00 CET. The winner of the challenge will receive an exclusive CHARM-EU 'Green Kit' containing useful zero-waste tools.
How to participate in the virtual challenge?
Citizens of all Erasmus+ countries are allowed to register for the CHARM-EU virtual challenge. In order to access the game, participants need to download the free Kahoot! application on their mobile device, or alternatively access the game through the official page of Kahoot. The moderator of the challenge will share a pin code which will allow all participants to enter the game. At the beginning of the challenge please provide your name, then try to correctly answer as many questions as possible. The player with the most points collected at the end of the game will be shipped a CHARM-EU 'Green Kit'.
Should you have any questions regarding the CHARM-EU Erasmus Days programmes please send your query to charm-eu@rk.elte.hu email address.