Conference on Brazilian-Hungarian academic and scientific cooperation - Science Without Borders Program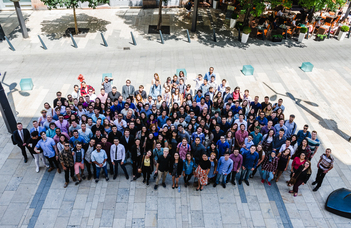 On 7 June 2016 the third Conference on Brazilian-Hungarian academic and scientific cooperation of Brazilian students took place at Eötvös Loránd University. The conference was organized by the Hungarian Rectors' Conference for students from Brazil who study in Hungary within the framework of the successful
Science Without Borders
program in the academic year 2015/2016.
350 students, leaders of faculties and universities, professors, researchers and coordinators involved in the program participated on the academic and scientific conference related to the Brazilian Science Without Borders program last week.
On the opening ceremony, students were greeted by Mr. Iván Medveczky, Head of the Latin-America Department, Ministry of Foreign Affairs and Trade; Mr. Gergely Prőhle, Deputy State Secretary for EU and International Affairs, Ministry of Human Capacities; Dr. Ferenc Pál Representative of the Rector on Brazilian Affairs, Eötvös Loránd University; and Mr. H.E. Valter Pecly Moreira, Ambassador of Brazil to Hungary. Ministry of Human Capacities awarded Dr. Zoltán Dubéczi, Secretary General of Hungarian Rectors' Conference for all his work related to the joining and participation of Hungarian higher education institutions in the Science Without Borders program.
In the morning, a great presentation was also given by a Brazilian student who summarized all her experiences when studying with the Science Without Borders scholarship in Hungary.
Afterwards, lectures were given by Dr. Márta Turcsányi-Szabó associate professor at Faculty of Informatics of ELTE, Andrea Herdon, MSc student in Marketing of Corvinus University of Budapest and co-founder of MEDcases start-up, and Dr. Tamás Molnár associate professor of Visual Studies at Faculty of Engineering and Information Technology, University of Pécs. The session was chaired by Dr. Ferenc Pál Representative of the Rector on Brazilian Affairs. In the afternoon, in small parallel sessions students presented their scientific projects carried out during this academic year at ELTE.
The event proved to be a success and students participated in the event in an extremely high number, they were active in the afternoon sessions and interested in each other's experience and project.
The event was closed by the performance of the Folk Dance Group of the Eötvös Art Ensemble, ELTE which was met with applause by the Brazilian audience.