Csaba Burján wins another gold medal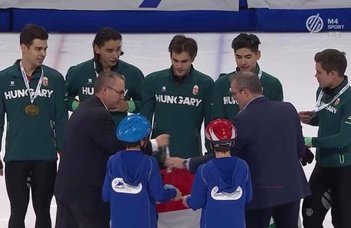 As a member of the Hungarian team, the ELTE Face of Sports, who is a student of mathematics at the Faculty of Science, set a new world record for 5000m in the season's opening event of the ISU World Cup Speed Skating organised in Calgary.
From the members of the relay team that won a gold medal in the PyeongChang Olympic Games, Viktor Knoch is currently on a one-year respite. He was replaced by American Cole Krueger in Calgary. Besides him, the Liu brothers and Csaba Burján, who is a student of mathematics at the ELTE Faculty of Science, could step on the top of the podium. The Hungarian relay team took over the South Korean and Dutch quartets at the end of the race. What is more, with their time of 6 minutes and 28:625 seconds, they broke the previous world record held by the Americans.
Csaba Burján, who has been the Face of Sports of our university since September 2018, claimed in a recent documentary series introducing ELTE students that having taken the Olympic gold, the team immediately started working towards winning gold medals at the European and World Championships. Beating the world record in Calgary is a big step towards their goal. The series of international Speed Skating competitions continues in Salt Lake City, United States, on November 9, where the Hungarian team competes again.