Cutting-edge smart laboratory is under construction in the ELTE Institute of Chemistry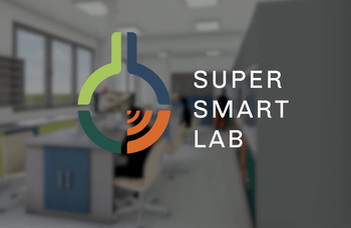 HU
The SuperSmartLab, equipped with artificial intelligence and state-of-the-art technologies, is ELTE's largest chemical investment to date - funded by the EU Recovery and Resilience Building Fund (RRF) and realized with central coordination. The laboratory will serve as a training hub for chemists and chemistry teachers, as well as offering chemistry education to students pursuing other natural science majors, starting in 2024.
In April 2022, Eötvös Loránd University initiated the 'Practice-oriented higher education infrastructural and skills development at ELTE' project, identified as RRF-2.1.2-21-2022-00023. This program consists of three interconnected areas: buildings housing the labs are undergoing partial energy reconstruction; in parallel the university's digital equipment and IT networks are being upgraded, digital teaching methods are being revised, and digital competencies of students and teachers are being enhanced.
The SuperSmartLab, set to become Central Europe's best-equipped university chemistry teaching laboratory, is under development at ELTE TTK, in alignment with the aforementioned goals. From 2024, students enrolled in bachelor's and master's programs will have the opportunity to begin their studies and scientific career preparation in a 60-person teaching lab that addresses the demands of the present age. At each workstation, students can learn and conduct experiments utilizing a computer system equipped with smart technologies, and a mobile app specifically designed to support laboratory work. The lab programs also offer a window into the chemical applications of artificial intelligence.
This project will enable students to develop competencies fitting the demands of the 21st century,
including digital data collection, large dataset management, measurement automation, and basics of robotics.
"We are educating professionals who will combine modern chemistry principles with smart technologies to discover innovative solutions to today's scientific challenges. We are thrilled to involve key corporate stakeholders and investors in ELTE's most significant chemical investment so far, our SuperSmartLab project." said Imre Kacskovics, Dean of the Faculty of Natural Sciences at ELTE.
In the new smart lab, analog measuring tools are superseded by sensors, scales, and spectrometers using wireless Bluetooth technology. QR codes on laboratory equipment and chemicals allow students to access information about specific materials or apparatus with a single click. Augmented reality technology supports learning, enabling students to explore the curriculum through embedded explanatory media content on their own smart devices.
Critical steps will be demonstrated by the lab leader from a camera-recorded work table, ensuring continuous interactive engagement with the students, who can request immediate personal assistance via the call system.
Instructors monitor the work processes undertaken during the lab exercises and track student progress using a monitoring system.
Individual progress and catching up are also supported by artificial intelligence.
The project worth more than HUF 3.2 billion will be implemented within the framework of the Széchenyi Terv Plusz program until April 2026, but the lab itself is expected to be handed over as early as 2024. The facility will then be open to the interested public, for example, as part of the Researchers' Night program or during faculty open days.