Discussing Peruvian poets at the postgraduate program of Universidad Veracruzana in Mexico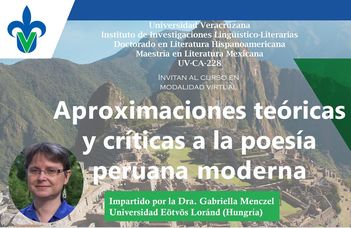 HU
A professor at the Faculty of Humanities, Gabriella Menczel, gave a ten-day intensive course as part of the doctoral program at Universidad Veracruzana.
As an important milestone in our cooperation with the prestigious Universidad Veracuzana in Mexico, Dr. Norma Angélica Cuevas Velasco, director of the Instituto de Investigaciones Lingüístico-Literarias (Center for Linguistic and Literary Studies), asked Gabriella Menczel, head of the Department of Spanish Language and Literature to hold an intensive course for postgraduate, doctoral and master's students, as well as interested professors and researchers.
The twenty-hour lecture series titled Aproximaciones teóricas y críticas a la poesía peruana moderna detailed the main trends in Peruvian poetry in the 20th and 21st century. However, the emphasis was on common interpretations of poetry. Productive dialogue developed between the participants of the workshops on every occasion. This was a special situation and it was a unique experience to manage a fast paced course, which, with overcoming the time (and location) difference, gave the participants the joy of collective thinking and the meeting of cultures. The course took place online, via Zoom.
More detailed information about the course and the Research Center can be found here, the poster of the course can be viewed here.
Instituto de Investigaciones Lingüístico-Literarias
Source: ELTE BTK