Eleven universities, fifty-five nations – Everything about USF Budapest 2018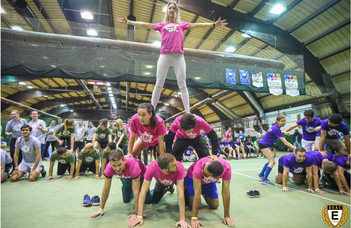 University Sports Festival (USF) Budapest was organized for the third time on the 30th of November. Students from all over the world had the opportunity to try different sports. The event was attended by eleven higher education institutions representing fifty-five countries such as Germany, Angola, Kazakhstan, the United States and Iran amongst many others.
Besides the volleyball and futsal championships, participants could try several individual sports, as well: different varieties of aerobics and combat sports as well as novelties such as airflow yoga, pole fitness, functional wrestling or table tennis.
The program was featured by BEAC's belly dancers and cheerleaders who offered a spectacular show to the audience.
The winner of the futsal championship was the University of Physical Education while Budapest University of Technology and Economics (BME) won the gold medal of the volleyball tournament.
At the end of the event, an interinstitutional competition was held where – for the second time – students of BME took the first place. As last year, students of ELTE won the silver medal, while students of Budapest University of Physical Education won the third place.
The event was sponsored by Budapest Festival and Tourism Center and VIWA Vitaminwater.
Photos taken at the event are available on BEAC's Facebook page.
Results:
Futsal championship
University of Physical Education
Szent István University
IBS International Business School
Volleyball championship
Budapest University of Technology and Economics
National University of Public Service
University of Physical Education
Scores
Budapest University of Technology and Economics – 1321 points
Eötvös Loránd University - 1183 points
University of Physical Education - 1156 points
National University of Public Service - 1060 points
IBS International Business School - 862 points
Andrássy University of Budapest- 665 points
Szent István University - 552 points
Budapest Business School- 459 points
Central European University - 453 points
Corvinus University of Budapest - 363 points
Balassi Institute - 201 points