ELTE Geology students in the final of the Water4Future Hackathon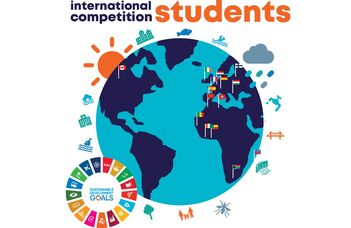 Our master's students of Geology - Hydrogeology, Petroleum geology and Environmental geology specialisation, joined the Water4Future Hackathon organized by UNESCO ICIREWARD International Centre in Montpellier, France.
The online competition with the theme "Water & Sustainable City" was held on 16-17 February 2023, with over 400 students from 42 universities across 17 countries participating. The groups worked on innovative projects and solutions for water-related problems and their sustainable use in just 48 hours to present them to international expert panels along with viability plans, economic analysis, and legal frameworks, among other integral characteristics of each project. The competition had a hybrid modality, so the ELTE students mostly worked from the university campus.
The H2erOes group (from left to right): Ádám Tóth, coach of the team, Kanan Naghiyev, Ádám Györfi, Rej Beqiraj, Carlos López, Reyana Dawn Garcia, Botond Kovács and Naufal Revanda
For the very first participation of ELTE, the group was composed of Hungarian and international students from Albania, Azerbaijan, Ecuador, Indonesia and the Philippines under the name of "H2erOes", led by Ádám Tóth (Department of Geology). The team proposed the idea of using heat sources derived from thermal waters in Budapest in heating, aquaculture and manufacturing. The project had national and international potential and was framed within the UN Sustainable Development Goals. This unique topic made the team advance to the grand finale, where they faced 10 other teams from a total of 69 groups enrolled in the contest. Although this year, the first prize was awarded to a group from the University of Montpellier, the project of our young students' team was very well received by the Judges Panel and made a difference in the idea of the recreational use of water in our country.