ELTE International Student Ambassadors 2017/2018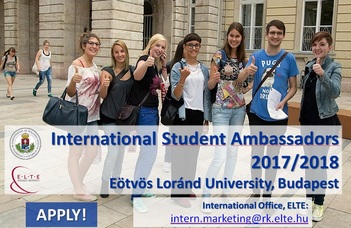 Call for applications
Eötvös Loránd University (ELTE) is looking for International Student Ambassadors for the academic year 2017/2018.
Application deadline: 20 October 2017 EXTENDED DEADLINE: 27 October 2017
Who are ELTE International Student Ambassadors?
ELTE International Student Ambassadors are degree-seeking international students at ELTE who want to share their experience about their studies here at the university with students who are still in the process of applying for the degree program.
Who can apply?
Anyone can apply who is currently enrolled as a student in the second/third/fourth year of any degree programs at ELTE. If you want to tell others how great it is to be with us, you are a perfect candidate to be an ELTE International Student Ambassador in 2017/2018.
Why should you decide to be an ELTE International Ambassador (IA)?
Are you having great experience here at ELTE? Would you like to share it with other students? Be an ELTE International Ambassador!
You help your university with letting more and more people hear about ELTE. The more people hear about ELTE, the more valuable your degree is.
We organize international ambassador trainings at ELTE where you will be invited to participate.
You can attend all events organized by the International Office with a discount.
You can be an ambassador for one or more full academic years. At the end of the academic year, you receive a certificate that you are/have been an ELTE ambassador.
Ambassadors are "bronze" (after one year) - "silver" - "golden" members (depending on the year of their involvement-activity).
You can participate in the promotional campaigns of ELTE (brochures, videos, university website, fairs etc.)
Looks good on your CV. :-)
You will gain a lot of skills that employers appreciate which are not taught in your degree program (e.g., event organization, presentation skills, increased confidence).
What are your duties as an ELTE International Ambassador?
You are available for anyone interested in ELTE to provide information about the university.
Connect the interested students with the ELTE International Office where they can receive information about further details.
You participate in the international events or promotional activities of ELTE where your task is to give information to interested participants about the international possibilities at ELTE (e.g., you can give presentations about your personal experiences at ELTE, participate in the organization of the Orientation Days, lead campus tours).
Agreement:
You and the ELTE International Office make an agreement together on your tasks for the academic year. It all thus fits around your schedule in a flexible way.
Commitment: on average 6-7 days per academic year, plus online activities
The position is unpaid, it runs on a voluntary basis.
How long can you be an ELTE International Ambassador (IA)?
The IA-position is a year-long commitment, from December 2017 until end of July 2018. You can decide each year (until end of June) if you would like to be an ELTE ambassador for the new academic year.
If you have completed all your tasks carefully in the previous year, you can apply for an international student ambassadorship again, until 30 June.
How to apply to become an ELTE international student ambassador?
STEP 1: Check
Check if you are eligible to apply.
STEP 2: Apply
Apply via email at intern.marketing@rk.elte.hu.
In your email please include: Name, Country of origin, Contact info, (Anticipated) year of graduation, Study program, Scholarship program (if any), University activities (if any)
Motivation letter: Explain why you think you'd be the best ELTE international ambassador (200-300 words).
STEP 3: Discuss details
The International Office will get in touch with you and discuss the details of your program.
STEP 4: Training
The International Office will organize a training for all selected international student ambassadors in early December.
STEP 5: Start activities
After you have agreed on your activities with the International Office, you can start your activities.
Remember! You are in constant contact with the ELTE International Office and you can get help from them any time.
STEP 6: Certificate
At the end of the academic year, you receive a certificate that you have participated in the ambassador program. At the same time, you can decide if you would like to continue participating in the program in the next academic year as well.