ELTE is a Superbrands award winner once again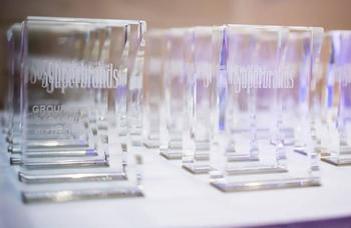 HU
In 2021, ELTE has retained its former position among the top Hungarian brands with high professionalism and credibility.
The international Superbrands programme, launched in Hungary in 2004, has become not only a point of reference for the marketing and communication fields, but has also become a well-known trademark of high quality, and is now awarded to the finest consumer and business brands.
Every year, researchers of Superbrands conduct a comprehensive examination of the best brands in Hungary. Working from various sources (trademark database, reports of professional associations), they create an up-to-date brand database, and further filter the brands based on professional criteria and various measurements of quality. The award is ultimately decided by a professional panel of judges, independent of the brands, who consider the brand's tradition, history, market presence, reputation, goodwill, ethics, public recognition, innovation, brand strategy and brand building practices.
Based on the committee's decision, Eötvös Loránd University will be eligible to use the Superbrands trademark in 2021. This is the ninth time that our university has been awarded the title. This year, after 2011, 2012, 2013, 2016, 2017, 2018, 2019 and 2020, ELTE stood out from the competition once again.
The award is a positive reflection of the high quality the University's work, its success, transparency, credibility and its relationship with the public. It is also an encouragement for the University to continue its previous work in creating value as well as to further strengthen its reputation.