ELTE Jessup Team in the top three this year again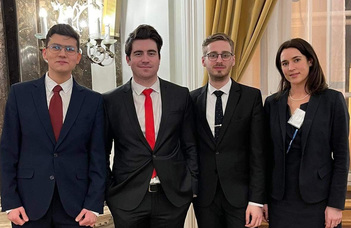 ELTE Jessup Team ranked second place in the European Friendly competition on 5 March 2022. In the competition hosted by Budapest, the ELTE students bested the team of Israel in the semi-final round. In the final round held in Aula Magna at the Faculty of Law, the University of Vienna proved to be better this year. 14 teams took part in the competition, with 90 judges evaluating the achievement of the contestants in a total of 31 rounds.
The team comprising of Marcell Valastyán (plaintiff), Bulla Bettina (plaintiff), György Erményi (defendant), and Alex Hordós (defendant) retained the position of the ELTE Jessup Team among the best contestants. The even balance of the team is well indicated by the fact that all four agents received outstanding individual scores – Marcell ranking 3rd, Bettina 5th, Alex 12th, and György 14th.
This year the team was coached by dr. habil. Gábor Kajtár LL.M. (Cantab), associate professor, and dr. Zolta Buda, 2019 Jessup world champions.
We are deeply indebted to our fantastic sponsors for their support, particularly to the Hegymegi-Barakonyi and Partner Baker & McKenzie Law Firm, without whom this success would not have been possible. Our further sponsors: Dentons Réczicza Law Firm, Lengyel Allen & Overy Law Firm, Bittera, Kohlrusz & Tóth Law Firm, Nagy & Trócsányi Law Firm, Oppenheim Law Firm, the Ministry of Justice, and Ignác Frank Foundation.