ELTE Law Students among the Best in the world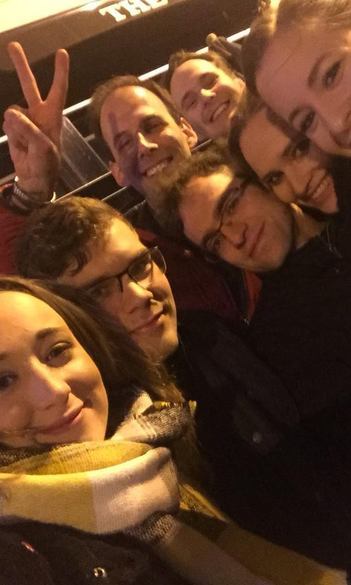 Competing with more than 120 universities, the ELTE Jessup Team was awarded the Best combined memorial First place at the Philip C. Jessup International Law Moot Court Competition organized in Washington, D.C. in the first week of April 2018.
Gábor Kajtár's team (Gergő Balázs, Barbara Bazánth, Zolta Buda, Olívia Németh and Dzsenifer Orosz) thus outperformed, among others, the best German, Irish, French, Canadian, Indian, Chinese, and Australian teams from Yale, Berkeley, NYU, King's College, and UCL, who were winners of the national rounds.
Their applicant memorial was ranked fifth place in absolute rankings, and their respondent memorial was ranked second place. The team won 20th place in final team rankings, getting again among the top 32 advancing teams (Advanced Rounds Team Award). For her outstanding performance as the best non-native oralist with the best memorials, considering also the results of written pleadings,
Barbara Bazánth was awarded an American scholarship to the International Law Institute.
Holding this award, Barbara can return to the United States as a student in summer 2018.
Started 60 years ago, the Philip C. Jessup International Law Moot Court Competition is the world's most prestigious international championship organized for students of law. Approximately 600 teams from around 100 countries participate annually in the competition. Of these, teams from 121 universities entered the international round organized in Washington, D.C. in 2018. An earlier outstanding achievement of the ELTE Jessup Team was the Second Best Oralist award won by Dániel Kristóf Pap at the international round in 2015.
Based on a 25-page-long legal case, teams prepare pleadings arguing both the applicant and respondent positions. Students write their 60–70-page memorials in English between September and mid-January. In the oral rounds, the parties – knowing each other's written memorials – present their 45-minute oral pleadings before a penal of three judges in English. The pleadings typically turn into conversations or sometimes polite arguments with the judges, where, besides the full knowledge of the law, successful performance requires extraordinary rhetoric skills, fast reactions, as well as a high level of knowledge of legal culture.
For ten years, the Jessup teams of ELTE Faculty of Law have been prepared by Gábor Kajtár senior lecturer, teacher of the Department of International Law. In this year's championship his work was assisted by Máté Csernus trainee solicitor.