ELTE law students won in the Hague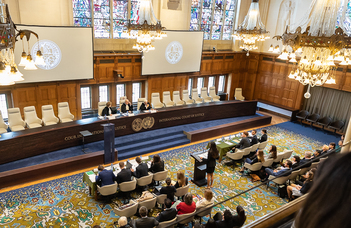 The team of Eötvös Loránd University won the final round of the historical and high prestige 42th Law Moot Court Competition in the Hague in May 2019. In the last couple of years, the teams of ELTE achieved excellent results and got many points, but this is the first time when a Hungarian team made it into the final round becoming the first Hungarian university to win the competition.
The Telders International Law Moot Court Competition passed its 40th milestone in 2017. Since its humble beginnings in 1977, when only four universities took part, the Competition has today become the most prestigious and important moot court competition in Europe. Annually, teams from over 40 universities compete in the national rounds, with the winning teams going on to represent their countries in the international rounds held at Faculty Campus The Hague of Leiden University and the Peace Palace in The Hague. Through the Competition, students are educated in legal practice and such principles as the rule of law, civil society, and fair play. The Competition also stimulates team-work and European integration.
This year, the international law-debate took part between two fictional states before the International Court of The Hague. The respondent, Brolin, is the bigger state with more population while the demander, Tenovia, is a smaller state then Brolin with less population, and strong religious traditions and habits. According to arsboni.hu, The situation was the following: the state of Brolin organised an international football championship where the fans of Tenovia were not allowed to enter because of their ethnicity. So, the state harmed fundamental human rights and the rules of international law. Furthermore, the court had to study that Brolin also broke a contrary between the two states by ignoring the sent diplomat's immunity and let the local court make decisions about it.
During the semi-final rounds, the Hungarian team competed with the delegacy of the Netherlands, France, Bulgaria, and Turkey. In the final, at the Peace Palace, ELTE got the role of the defendant and had to declare their arguments in front of the members of the International Court. By winning the final, ELTE is the first Hungarian university in history which won this international competition. Besides winning the competition, the team got the award for the best orator. The members of the team are: Dóra Balogh, Dávid Máté, Balázs Schultz és Franciska Tóth. The Team was coached by dr. Gábor Kajtár LL.M. and dr. Katalin Sulyok LL.M professors of the ELTE Faculty of Law. Meldivoglia Clio (Attorney-at-Law, Baker & McKenzie) and Barbara Bazánth (Trainee, European Court of Human Rights) also contributed to the preparation of the Telders Team.
The Team was sponsored in this year's competition by the Hungarian Ministry of Justice, the Faculty of Law, the ELTE Talent Management Council, the ELTE Student's Union, and the Ignác Frank Foundation.
Source: elte.hu / Daily News Hungary