ELTE Researchers at ATEE Winter Conference 2022 Italy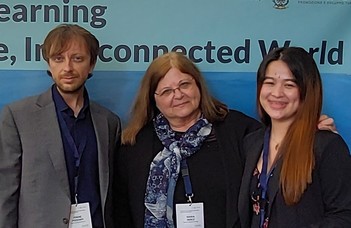 The Association for Teacher Education in Europe (ATEE) organized a face-to-face conference on Sestri Levante, Italy. The conference was co-organized with the Global Competence in Teacher Education initiative and the Institute for Developing Across Differences. The program centred on the idea of how teacher educators promote teaching and learning for an inclusive, interconnected world, i.e. global competence development.
The conference incorporated workshops, plenary sessions, and parallel sessions with the following themes:
Inclusive approaches to teaching and learning for an interconnected world;
Preparing teacher educators (TE) and TE stakeholders to model and facilitate Global Competence Education (GCE);
Internationalizing, decolonizing and interculturalizing teacher education programmes;
Non-formal education and its role in traditional schooling; and
Digital technologies to make teacher education programmes international and intercultural.
ELTE PhD students were able to participate in the said event together their PhD supervisor Dr. Maria Hercz, a faculty member of ELTE Primary and Pre-School Education. The three ELTE affiliated researchers presented three papers as a group.
Dr. Maria Hercz presented an EU project called the UKids Social Entrepreneurial Education Programme. The presentation entitled "Train yourself and your pupils: Teacher trainees as innovators in an international sustainability programme" was all about the changes of the student teachers' views; the participants in the project. The teacher training program can be understood in a comprehensive framework of transversal competencies for implementing into the curriculum of primary school teacher training.
Anisa Trisha Pabingwit, a first-year PhD student of ELTE Faculty of Education and Psychology, presented the research entitled "Enhancing Scholarship Holder International Students' Intercultural Competencies with Collaborative Learning" which focused on the idea of the utilization of collaborative learning to minimize the challenges faced by international students in terms of cross-cultural integration
Ferenc Pozsonyi, a second-year PhD student, also at ELTE Faculty of Education and Psychology, presented a group research work entitled "MOOC-assisted sex education in tertiary education setting" financed by the Hungarian "National Excellence Programme" (NKP).
The conference gave the ELTE representatives an opportunity to meet, share, and discuss ideas with researchers around the world. Surprisingly, there were a lot of similarities in the problems encountered
in various institutions, especially due to the aftermath of COVID-19, which was a popular topic in the congress. It was identified that teacher recruitment was one of the constant problems in Europe despite the intentions of the educational policy makers in the last 25 years. Furthermore, it was also emphasized that there is a limited scope of possibilities to promote foreigner students' inclusivity and cultural integration.
Overall, the presentations of the ELTE researchers stimulated interactive evaluation which created a through-provoking discussion. Thus, with this in consideration, participation in educational activities is encouraged.
Further Links:
The Global Competence in Teacher Education Project Website: https://www.globalcompetence4educators.org