ENERAG project has started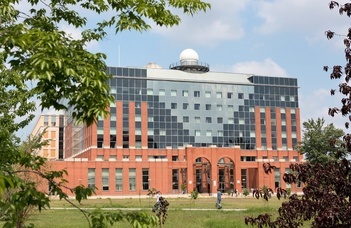 The goal of the three-year programme, launched on October 1, is to strengthen the research and innovation capacity of ELTE in the field of subsurface fluids via international networks of excellence. For this purpose, ELTE is co-operating in this project with the Geological Survey of Finland (GTK) and the University of Milan (UMIL) as leader of the consortium.
The knowledge of fluids, subsurface water, geothermal and hydrothermal fluids and their interrelationships determines the possibilities of water management, geothermal energy utilisation, as well as the exploration and use of mineral raw materials. The innovative idea of the project is a joint, comprehensive exploration of various subsurface fluids, which is also the underlying concept of research activities carried out at the József and Erzsébet Tóth Endowed Hydrogeology Chair.
This opens up a new path for a better understanding of processes related to fluids, and for the effective development of technologies employed to extract them.
The ENERAG (Excellency Network Building for Comprehensive Research and Assessment of Geofluids) project offers various professional further training workshops, innovative video-based training, summer and winter schools, visits by experts, student and researcher exchange programmes, as well as laboratory and field exercises that both Master's and PhD students can join. The project combines research results and practice due to the partners – including MBFSZ, OVF, BGyH Zrt., Pannergy, and EU Fire. This scheme contributes considerably to the harmonized interpretation of research results, and also to the transfer of knowledge and the improvement of legal regulation in the field of practical application. The project is expected to promote the sustainable use of geofluids in Hungary and in the EU.
As a result of the programme, ELTE is likely to become a renowned centre for research in geofluids on European and international levels, and may attract further national and EU funding.
The professional supervisor of the ENeRAG H2020-Widespread-Twinning project is Judit Mádlné Szőnyi, leader of the József and Erzsébet Tóth Endowed Hydrogeology Chair. Researchers of the programme are: Anita Erőss, Brigitta Zentainé Czauner, Tímea Havril (József Tóth and Erzsébet Endowed Hydrogeology Chair, Department of Physical and Applied Geology), Gabriella B. Kiss (Department of Mineralogy), and Attila Galsa (Department of Geophysics and Space Science). The launching events of the programme will be held on 27–29 November 2018.