Georgian Culture Day at ELTE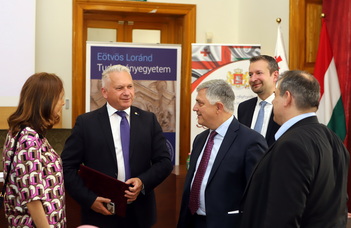 HU
On 25 May, the Embassy of Georgia to Hungary and the International Strategy Office at Eötvös Loránd University jointly organized a Georgian Cultural Day. The event titled
Georgian Cultural Day: Celebratory event dedicated to Georgia
was held on the occasion of the 30th anniversary of the establishment of the diplomatic relations between Georgia and Hungary as well as the Independence Day of Georgia. The programme took place at the Faculty Council Hall of the Faculty of Humanities.
The cultural day was opened with welcome speeches by Rector László Borhy and Zaal Gogsadze, Ambassador of Georgia to Hungary, followed by a video message from Anna Mária Sikó, Ambassador of Hungary to Georgia.
The event featured presentations by ELTE's professors and students. Zsigmond Benedek, Caucasologist, Teacher of Georgian and Armenian Cultures and Languages, gave a brief overview of the history of Georgian studies, followed by a lecture held by International Student Ambassador, Anna Brjezovskaia, and BA Student and Young Ambassador of Georgia to Hungary, Tamuna Japharidze, titled The History of the Braves - Georgia's Fight for Independence. The music band Vardis Kucha performed Georgian and Hungarian folk songs, whose performance was followed by food and wine tasting. Subsequently, Associate Professor Bálint Mezei gave a presentation on the relations between Hungary and Georgia in the 20th century and Habil. Associate Professor Tamás Körmendi presented the Georgian sources of the early history of Hungarians. Towards the end of the event, MA student Anna Porkoláb presented the life and works of Mihály Zichy, and PhD student András Patrik Erdős detailed the life and connections of Lajos Tardy to Georgia in his lecture titled From a Prisoner of War to a Captive of the Caucasus. The event was moderated by International Student Ambassador, Barbare Petriashvili.
The event was attended by Dr. András Baranyi, Deputy State Secretary for Eastern Relations of the Ministry of Foreign Affairs and Trade of Hungary, H.E. Mr. Otaka Masato, Ambassador of Japan to Hungary, H.E. Ms. Joanna Azzi, Ambassador of Lebanon to Hungary, H.E. Mr. Zhanibek Abdrashov, Ambassador of Kazakhstan to Hungary, H.E. Ms. Agnese Kalniņa, Ambassador of the Republic of Latvia to Hungary, H. E. Mr. Christo Stefanov Polendakov, Ambassador of the Republic of Bulgaria to Hungary, as well as Imre Hamar, Vice-Rector for International Affairs at ELTE. Representative of the Ministry of Foreign Affairs, African Cooperation and Moroccan Expatriates, the Embassy of Chile in Hungary, the Embassy of the Kyrgyz Republic in Hungary and the Embassy of the Republic of Serbia in Hungary were also present.