Ginsen, Grenoble international smart engineering summer school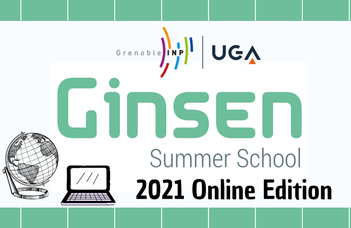 This summer, Grenoble INP is offering two online summer programs, one in Micro & Nanotechnology and one in Smart Energies. Both schools are taught by highly-qualified teaching staff in Grenoble INP's fields of expertise. In addition to science courses, the Ginsen summer schools online offer a full social and cultural program.

Target audience:
The nanotechnology program specializes in nanofunctional materials and microsystems and is tailored for students in Physics, Biology, Chemistry, Applied Physics, Telecommunication, Material Science, Electrical Engineering, preferably at 3rd year bachelor's or 1st year master's level. The smart energies program capitalizes on Grenoble's expertise on energy and sustainable development and is tailored at students from IT or Energy, preferably at 2nd or 3rd year bachelor's or 1st year master's level.
Key dates:
Online applications open on December 14th, 2020 and close on April 23th, 2021
The admission period takes place on April 24th and April 30th, 2021
Program dates: June 28th - July 9th, 2021
Format:
Program description: scientific lectures, practical work sessions, visits to high-tech scientific facilities and Interculturality classes.
Teaching method: online
Attribution of credits*: 2 ECTS
Extracurricular activities: Online visit guided of Grenoble city and its surrounding, Online Game Tournaments, French Cooking Workshop, Pub quiz, etc.
Fees: 400 €, which include:
All lectures and practical sessions.
Online visit to high-tech scientific facilities.
Planned extracurricular activities.
Administrative registration fees.
Scientific partnerships and collaborations: Grenoble INP - Phelma, Grenoble INP - Ense3, Grenoble INP - Ensimag, CEA, Minatec, European Synchrotron Radiation Facility.
Contact: summerschool@grenoble-inp.fr
Website: ginsen.grenoble-inp.fr