Grape harvest festival with ELTE international students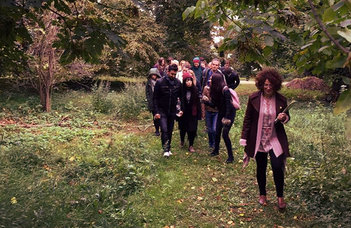 HU
ELTE international students went on a visit to Jókai Garden to be more closely acquainted with the traditions of Hungarian grape harvest.
The "last vineyard" of Budapest – as the Jókai Garden is frequently called – used to be the weekend house of Mór Jókai, Hungarian writer, who was a big nature- and garden-lover. The students, participating different Hungarian language courses at our university could learn about the Hungarian traditions, the rich culture and history of Budapest. This time they joined a guided tour in the Jókai Garden in the organization of the Department of Hungarian as a Foreign Language.
They had the opportunity to explore the exhibition about the life and works of the great Hungarian writer in his former garden-house and get an insight into the traditional ways of harvest and stages of wine making process. Finally, a Hungarian folk dance party with live music took place, where they learned some traditional folk songs too.
The program was granted by the ELTE Rector's Cabinet International Office and the Students Union of the Faculty of Humanities.