"Green Challenges"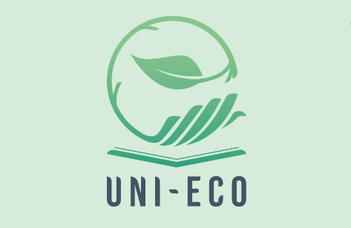 HU
Send your own idea for a more sustainable university campus, until April 4, 2021.
ELTE takes part in the UNI-ECO international cooperation with the main aim of making university life more sustainable. The UNI-ECO project is an initiative led by the University of Montpellier in partnership with the University of Barcelona, the University of Utrecht, the Eötvös Loránd University and Trinity College Dublin (all members of the CHARM-EU European Universities alliance), as well as the university network UNIMED and the NGO CESIE.
This project aims at responding to the need of building social and environmental sustainability into the core ethos of modern universities. In the UNI-ECO project we wish to work toward more sustainable campuses, but it is students and staff who will bring it to life by taking action.
Now all ELTE university citizen – students and staff – has the opportunity to participate in the "Green Challenges" campaign, and bring their own idea into life for a more sustainable university campus.
Application process:
Create your own idea for a more sustainable university campus in one of the 4 main Green Challenges categories:

Practices that will bring the university closer to a Zero Waste goal
Reducing the carbon footprint related to transport at the university
Actions to support and enhance biodiversity
Reducing the environmental footprint of catering at the university

Create a team of 2-5 people (if you do not have a team, you can join to other ideas!)
Visit the UNI-ECO homepage and submit your application form until April 4, 2021!
All information about the application and selection process is available on the UNI-ECO homepage.
Join the UNI-ECO project and make an impact for a sustainable university campus!
If you have questions about the application process: krisztina.kovacs@dep.elte.hu