HKBU Summer Programme 2023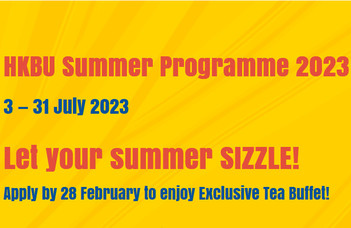 Hong Kong Baptist University organizes a summer university.
The course takes place 3-31 July.
A wide selection of inspiring courses are offered across disciplines to ignite your students' intellectual curiosity. In addition, we are planning a series of activities for your students to explore bustling Hong Kong.
Students must be nominated so please contact Ms Ildikó Chmara first in connection with that at ildiko.chmara@rk.elte.hu
Students must be nominated until 20 March.
Application deadline for nominated students is 10 April.
If you have any questions or need additional information, please do not hesitate to reach out to Stephanie/Natalie at summerprog@hkbu.edu.hk
Details are provided in the following URL: https://intl.hkbu.edu.hk/page/detail/2290