Intercultural training 2019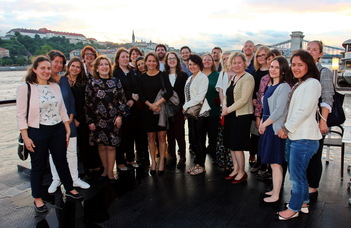 HU
This was the second occasion this year when international coordinators of foreign higher education institutions visited the Intercultural Training organized at ELTE. After the success of the event in 2018, the Intercultural Training was organized again by the Department of Erasmus+ and International Programmes and the Institute of Intercultural Psychology and Education between 20-24 May 2019.
22 staff members working with international students arrived from 15 countries, among others from the Czech Republic, the United Kingdom, France, Izrael, Germany, Spain and Malta. The aim of the training was the improvement of the communicational skills and competences of the collegues arriving from higher education istitutions.
The participants had the chance to partake in several interesting side-programs, like visiting the Jewish Quarter and the Parliament building. The gala dinner of the program also included the award ceremonies for the awards "Best Erasmus+ Coordinator of ELTE" and the "Most Dinamically Developing Faculty of ELTE in Erasmus+"