International ELTE Community Unites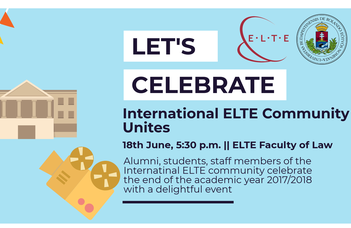 International Strategy Office and Alumni Centre of ELTE organizes a social event for the entire International ELTE Community. The aim is to provide an opportunity to get to know each other (students, alumni, teaching and administrative staff) better and have a delighted evening together with vivid and enriching conversations about the experiences in Hungary also with insights about contemporary Hungarian movies, which will be a program of the evening.
The event will take place at ELTE Faculty of Law (Budapest, Egyetem square 1-3), in Room A1, which can be found on the ground floor of the building, right to the stairs, the evening starts at 17:30 on 18 June.
Please let us know here if you are planning to come.