Interview with an international intern at ELTE International Strategy Office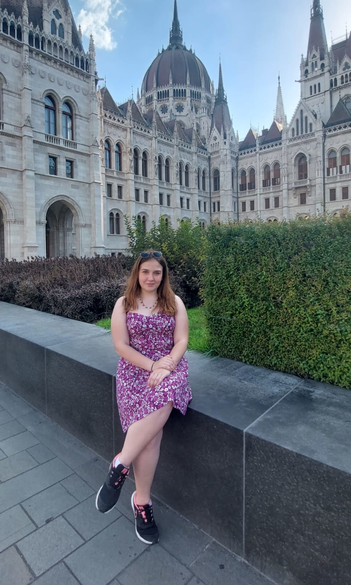 Günes Özmen, a student from Turkey, came to do a summer internship at the International Strategy Office of ELTE. She tells us about her experience in Hungary and working at ELTE.
Please tell us a few words about yourself, why you were looking for an internship and why you decided to intern abroad.
I am Günes Özmen. I study International Relations in English, and I am in my third grade. I am an outgoing and hardworking person. I was looking for an internship for gaining experience and improving myself. Apart from gaining job experience, by choosing an internship abroad, I also had the possibility to discover a new country and its culture.
Why did you choose Hungary and Budapest?
I had discovered a lot of fascinating information about Hungary during my history classes at the university. Specifically, about cultural similarities between Turkey and Hungary. So, I thought that living in Budapest even for a short time would help me learn more about the country, its culture and educational system.
Was it easy to find accommodation in Budapest? How did you go about the task?
It was very easy to find a place to live in Budapest. It is even easier for ELTE students because there is a website for information on accommodation (elte.hu/en/accommodation) and people can find there various options for accommodation.
What was it like living in Budapest?
Living in Budapest was fantastic. I loved the view of the city, the rush of the city, and the transportation of the city. Wide streets, old buildings, touristic places – all this was wonderful.
What stood out the most to you in Hungary that is different from your home country, Turkey?
First and foremost, Hungary has a smaller population than Turkey, which makes it safer and more tranquil. Secondly, Budapest offers excellent public transit; you won't have to wait long for trams or buses there, as opposed to Turkey. Thirdly, Budapest is a bustling city, perhaps because it is the capital; in comparison to Budapest, my city Trabzon is not as lively.
What did you do as an intern? What was your favourite task? Tell us a bit about your experience here.
During my internship, I performed a variety of responsibilities. I had desk jobs where I had to utilize MS Office, or social media positions where I had to prepare posts, go over social media pages, or respond to emails. More active tasks included serving as the student coordinator for ELTE's Budapest Summer University. Daily tasks were also assigned at work. I loved my time as a student coordinator because it was a very busy task that required management and communication. Additionally, I enjoyed very much responding to emails since it allowed me to stay in touch with people and assist them.
What do you think is the most important thing you learned during your stay?
I developed my independence. Regular job, self-discipline, and independent decision-making, all these factors helped me develop as a person.
What is your favourite spot in Budapest and why?
I adored the Parliament building. There is the Danube river nearby. If you want to enjoy beautiful views of Budapest, it's a great place. It doesn't matter if it's in the daytime or at night. It is lovely.
What tips would you give to future international students and interns?
Given that a new situation can occasionally be confusing, they shouldn't be scared to ask questions. They should also have an open mind and accept other cultures. They shouldn't be afraid to make mistakes since by fixing them, they get more experience.