Katalin Forrai Commemoration Day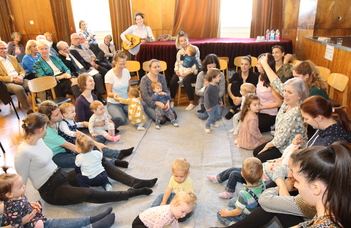 On 6 October 2022, the Department of Music and Singing at the ELTE Faculty of Primary and Pre-School Education held the Katalin Forrai Commemoration Day with international attendance.
The department organised lectures and round-table discussions, and the long-planned induction of the Katalin Forrai Memorial Hall took place between the two parts of the programme. The attendees included Katalin Forrai's family members, (from the USA) the current and (from Belgium) the former president of the International Kodály Society, music educators from Finland, as well as other performers and guests from abroad. Additionally, renowned music educators from England, Japan, and the USA followed the programme that was broadcast online.
The commemoration day was hosted and moderated by Márta Dallos.
After the welcoming and opening speech by Dr. Péter Sziklai, ELTE Vice-Rector for Research, the "Ringató" group gave a performance led by Dr. Ilona Gróh Gállné. Subsequently, Zsuzsanna Tóth Hegedűsné delivered her lecture entitled "The educator who dedicated her entire lifework to early childhood music education". The recipients of the International Katalin Forrai Award were introduced by Helga Dietrich Mélykútiné, a former instructor at the department. During the induction of the Katalin Forrai Memorial Room, Zsuzsanna Tóth Hegedűsné gave a short demonstration with the contribution of her pre-school teacher trainees, and then she presented the professional background of the exhibition, as well as the content and significance of the images and objects on display. She also talked about how these were connected to Katalin Forrai's life and diverse work of Hungarian and international relevance. The chamber choir formed by the faculty members of the department sang some songs conducted by Zsuzsa Szesztay.
In addition to the international participants, on behalf of the ELTE Department of Music and Singing, Zsuzsanna Tóth Hegedűsné, Helga Dietrich Mélykútiné, and János Döbrössy took part in the round table discussion on the domestic and international aspects of Katalin Forrai's oeuvre and its impact, and the survival of her teaching methods in the 21st century.
Katalin Forrai Commemoration Day
Katalin Forrai Commemoration Day