Laughter is more than phsyical exercise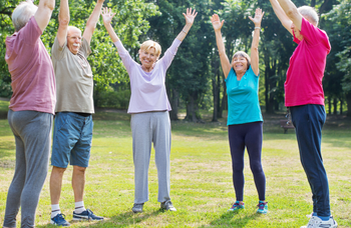 HU
Already half an hour of controlled laughter equates to some light exercise and improves well-being, especially among older women. Researchers at Eötvös Loránd University have studied the psychological and physiological effects of the increasingly widespread method of laughing yoga and published their findings in the Baltic Journal of Sport and Health Sciences.
Genuine natural laughter has long been known to have a big role in maintaining mental health. It reduces stress and produces positive changes in our bodies as well. However, science says little about whether controlled, self-induced laughter is capable of all this. The idea itself was born in the 90s and is now spread all over the world in the form of laughter yoga. The essence of the method is that participants combine laughter exercises with yoga breathing exercises. The big advantage is that self-induced laughter can easily turn into real laughter, especially when practiced in company. Attila Szabó, lecturer at the ELTE Institute of Health Promotion and Sport Sciences, and his colleagues therefore assessed the effects of laughter yoga on health and mental well-being in two experiments.
In the first study, the researchers were interested in whether the mere visual experience of laughter could evoke positive emotions. To find it out, they showed a 25-minute video of a laughter yoga class to 13 university students. During the experiment, professionals used a heart rate belt to measure the cardiac rhythm of the test subjects and assessed their emotional state with a questionnaire. The results show that
even the mere viewing of laughter yoga has a beneficial effect on the mental state while evoking a considerable cardiovascular and respiratory response.
While watching the short films, participants used an amount of energy that was equivalent to a slight physical activity, which is typical of people who work out roughly 1 to 3 times a week.
In the second experiment, the power of a laugher was examined in participants of a real yoga class in Budapest. Twenty-five women around the age of 60 attended the laughter yoga class, who also underwent the measurements used in the previous experiment. The results revealed that already one session lightened mood and reduced the number of negative emotions. Good mood also had a positive effect on health:
the majority of test subjects showed an increase in calories burned and heart rate.
Compared to other physical activities, yoga practitioners burned slightly less energy than during the same period of cycling, but more than during cooking, for example.
Summarizing the findings of the two studies, researchers concluded that although laughter yoga in itself is not a sufficient form of exercise to maintain a healthy lifestyle, it offers a safe and enjoyable way of physical activity and recreation, particularly for women over fifty, due to its large number of positive psychological and physiological benefits.
The article authored by Attila Szabó, Tímea Berkes, Ferenc Ihász, and Ferenc Köteles has been published in the Baltic Journal of Sport and Health Sciences.