Launch of the new Erasmus+ App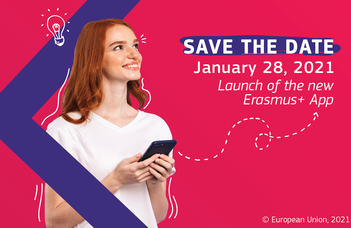 Release I of the new Erasmus+ App is available to download. The App will be introduced online to wider audience on the launch conference on 28 January 2021, with the participation of representatives of the European Commission, students as well as higher education professionals.
Save the date: 28 January – the launch conference of the new Erasmus+ App
The event takes place on 28 January. On the event, key features of the Erasmus+ App will be presented. The event is recommended to interested students and also higher education professionals who want to know all the new features of the App.
The new Erasmus+ App is one of the key deliverables of the European Student Card Initiative which aims to digitise and simplify the administrative procedures in student mobility and it will make a significant contribution to achieving the vision of realising the European Education Area by 2025. The Erasmus+ App will ensure that learners across Europe are able to easily access information on mobility opportunities offered by the Erasmus+ programme and support them throughout their journey abroad. The first release of the new App is now available to download on your mobile phone from the Google Play and Apple App Store or online.
New features include:
step-by-step guidance through the mobility journey
student-centred tips and stories to support mobile students
student deals, services and events promoting engagement with intercultural activities and people from local communities
Plus, many more new features still to come in 2021!
Erasmus+ is a key international programme at ELTE. ELTE not only coordinates a large number of student and staff mobility within this program, but as member of the European University Foundation (EUF), ELTE also participates in innovative projects related to the development of this programme. As a leader of the consortium together with the European University Foundation and the Erasmus Student Network also takes active part in developing the new Erasmus+ App which is the single point of entry into the Erasmus+ programme, providing a broad range of information, tools and services to help you plan and carry out your Erasmus exchange.
For more information and to register for the event please visit this website.