Learn about Hungarian workplace customs and culture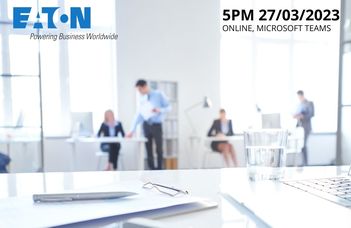 27. March 2023. 17:00 - 18:30
online, Microsoft Teams
27. March 2023.17:00 - 18:30
online, Microsoft Teams
---
Online workshop for international students of ELTE with Eaton's specialist.
Date/time: 27 March, 2023 from 5PM
Venue: online, Microsoft Teams
Speaker: Sabari Raj
About the speaker:
I'm Sabari Raj; currently working as a Senior Sales Analyst for EMEA Service Sales for Eaton. I'm from India but I've previously lived in UAE, Sweden & Turkey before moving to Hungary about three years ago. I did my Bachelor's & Master's degree in Mechanical engineering from Kerala University (India) & Linköping University (Sweden) respectively. So, for someone who's super restless as me and who's been moving countries frequently, Hungary has been the longest stop. Why? I'll be explaining more about that during my presentation!
About Eaton:
Eaton is dedicated to improving people's lives and the environment with power management technologies that are more reliable, efficient and safe. Eaton was founded more than a 100 years ago and now present in 175+ countries and employs more than 85.000 people globally.
Established in July 2015, The Eaton Budapest BSC is dedicated to empowering seamless operations. As Eaton's largest office location in EMEA and the region's only hub for business services support, the BSC provides essential services — from strengthening customer relationships, to enabling our electrical, industrial and corporate teams to deliver outstanding results.
The BSC helps Eaton businesses create exciting new power management technologies that keep our world moving every day. We make what matters work.
Registration is required.
The organiser Career Center will send an invitation to the meeting on the day of the workshop.