Making the Universities of the Future more inclusive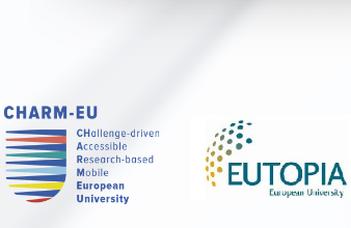 Embracing inclusion as a core value, the
CHARM
European University Alliance (of which ELTE is a partner university) is committed to create a learning environment open to all individuals regardless of their backgrounds, lived experiences and access needs. In order to make the University of the Future more inclusive, CHARM-EU has joined forces with the EUTOPIA University Alliance.
After a fascinating workshop jointly hosted during the CHARM-EU Governance Forum in March, Ágnes Sarolta Fazekas, CHARM-EU Leader on Inclusion and assistant professor at ELTE's Bárczi Gusztáv Faculty of Special Needs Education gave an interview together with the EUTOPIA Inclusion Team members Catherine Gillo Nilsson, Cheyma Al Mehraj, and Lewis Beer to discuss their perspective on inclusion in higher education.
They shared their fascinating views on the power of diversity, collaboration and the challenges and enablers of making the University of the Future more inclusive. Principles such as inclusivity by design and the importance of a living strategy and a step by step approach were highlighted in order to enhance a more inclusive higher education across Europe and beyond.
You can now read the full intreview and find out how CHARM-EU and EUTOPIA embrace inclusion and make it an asset for everyone that aims to create the University of the Future.