More than a farewell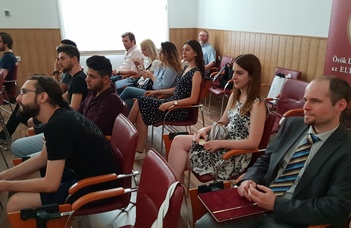 ELTE International Strategy Office and the Alumni Centre organized together its year-ending event for the entire international ELTE community on 18th June 2018. The event titled More than a farewell… took place in the main building of the Faculty of Law.
International ELTE community incorporates all those current or former students and colleagues (both academic and administrative) who have come from a foreign country. International students can study approximately 70 full degree programs, numerous courses and summer programs both either with or without scholarship. In 2016 the university named as one of its main goals the maintenance of a mutually fruitful and effective cooperation with its alumni community. The International Strategy Office has the task to manage the relation with the international alumni. Our university also ensures mobility both for its own employees and for the incoming colleagues, as well. Due to these efforts, ELTE also has international colleagues not just as invited speakers at certain events or at conferences.
Members of the International Alumni Chapter together with current and graduating students and colleagues had an end-of- -year entertaining event on 18th June 2018. More than fifty participants represented three continents and more than 25 countries. The programme started with the introductory remarks by Csilla Pataky, manager of the ELTE Alumni and Ferenc Takó, head of International Strategy Office. After that László Strausz, assistant professor at the Department of Film Studies guided the audience through the themes and characteristics of the contemporary Hungarian films. He even pointed out some of the ELTE alumni who have accomplished international success in the Film Industry. The topic of the presentation was chosen consciously to introduce this unique type of entertainment that—even though easily accessible to anyone within or outside the country— might be less known by the international ELTE community.
After the interactive presentation the head of the International Strategy Office thanked the international student ambassadors of 2017/2018 for their commitment to cooperate with the office in the internationalization projects. Before and after handing out the certificates and gifts, participants could share their experiences at ELTE through questionnaires and informal chats and create visual memories of the event. They also discussed any questions with colleagues of the two organizing units of the university and enjoyed the snacks and drinks with the financial support of the Alumni Centre. After the successful event the organizers have already started to arrange future events and further cooperation for and after the summer.
The organizers are grateful for the faculty international offices and ESN ELTE for their contribution to the event. Without their cooperation and support the event would have not been a success.
Photos of the event
Photos of the event