New Alumni community platform launched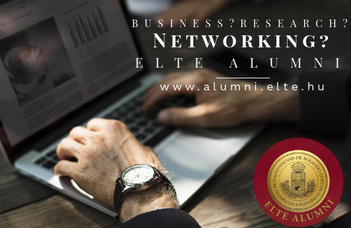 We are pleased to announce the ELTE Alumni Organization's new communication platform which allows registered members to personalize how they want to keep in touch with their Alma Mater, the Alumni Chapters, and former ELTE students.
As users can create their own groups, contacting and networking are also possible. Within groups ideas, results, experiences can be shared and also information about events, courses, calls of important issues can be received. Users will have the opportunity to follow the various activities of the Alumni Organization, programs of the Alumni Centre, events organized by Faculties' Chapters. They can also create their own meetings, events and groups and can open forums for conversations. Basic social features such as messaging, commenting, and likes are available as well. Thanks to news-, profile-, and group settings, users can customize in which way and how much they want to learn about the University's Alumni Life and take part in it.
How can you register?
Formerly registered Alumni members get an activation link to move to the new platform.
If you graduated at any of the faculties of the Eötvös Loránd University, or you graduated at another university but you had student status at ELTE at least during one semester through the international student mobility, you can be a member of ELTE International Alumni Chapter. In these cases you can apply by an online registration on the website alumni.elte.hu