New features have been added to the Erasmus+ app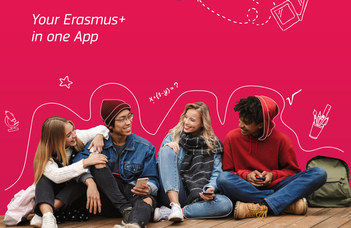 The new app is a "one-stop-shop" for Erasmus+, allowing digital applications for the pan-European student mobility, which involves around 300,000 students every year. ELTE is the consortium leader in the international project which was responsible for renewing the app.
The new Erasmus+ App will provide higher education students across Europe with a single point of access to a wide range of information on mobility opportunities, tools and services. The updated app was launched at an online event with the European Commission, higher education representatives and students in September 2021. The launch was attended by Mariya Gabriel, European Commissioner for Innovation, Research, Culture, Education and Youth, and László Borhy, Rector of ELTE.
With around 300,000 higher education student mobility in Europe each year, the app provides innovative online services for these students, as well as useful features for students during internships, vocational trainings and students participating in Erasmus+ youth programmes. The Erasmus+ App has already been downloaded by more than 120,000 users on Android and iOS.
Eötvös Loránd University is the consortium leader of the international project that created the app, in cooperation with the European University Foundation and the Erasmus Student Network. The application is available in 22 languages in addition to English and was developed with the help of volunteers from the Students' Union of the Faculty of Humanities.
More information is available on the website of the project.